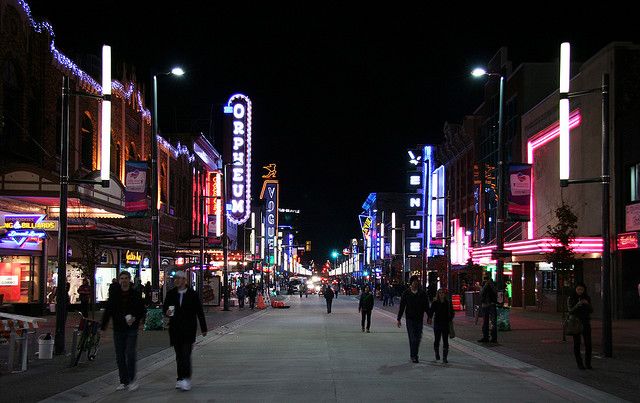 This week we delve into stories that take us along the Adanac bike route, from the downtown core, over to the Eastside. But what do the new bike pumps, clubs on the Granville strip, and Chinatown SROs have in common? Each has a not-so-obvious (secret, if you will) story behind it, illustrating once again that Vancouver's streets are littered with multiple layers of meaning.
Bumpy Road to Bike Pumps? 
A couple weeks ago 
this opinion piece
came out on the 
Province
 blog in response to news that the City had installed 
Vancouver's first two public bike pumps
 along the Union-Adanac bike route. The gist? Cyclists, not taxpayers, should be paying for the pumps themselves. Unsurprisingly, there's been a bit of backlash. Charlie Smith makes an 
informed, rational argument
 for the importance of these pumps in the 
Georgia Straight
. He also highlights a fact that isn't exactly a secret (but is perhaps taken for granted): 
amenities for private automobile users are also heavily subsidized by taxpayers
.
Granville, Stripped Down. 
In her recent piece for 
Vancouver Magazine
, Frances Bula explores the current 
culture and economics of partying on Granville Street
. In the process she also lays bare the fascinating historical shifts that lead to a five-block strip becoming the densest drinking destination in the city. She explains how "In May 1997, city councillors changed the official plan for downtown to create a Theatre Row Entertainment District. The policy, considered revolutionary then but prim by modern lights, said that up to 1,000 lounge, cabaret, and pub seats would be allowed in the blocks from Georgia to Nelson." Thus leading to the Granville we know today. But has the current configuration harmed other businesses on the strip? Check out Bula's article for a variety of perspectives on the topic.
Secret Lives of Chinatown Seniors. 
Finally, over at 
The Tyee
 Jackie Wong begins a series of articles on a group you most likely don't know much about: 
Chinese seniors living in low-income housing
. She explains, "While much is made about the seemingly flamboyant wealth of some Chinese immigrants to Canada, those who live at the May Wah [hotel] and other privately owned SROs in the old Chinatown area share a very different experience." It's a complex and humane exploration of a marginalized community's struggle for resources. And for more coverage on the subject check out
the current issue of Megaphone
.
At the MOVeum: 
April 26 - Brothels, Strolls, & Stilettos: Histories of Sex Work in Vancouver
April 27 - Strolling the stroll: A Tour of Sex Work History in the West End
May 2 - Special Curator Talk & Tour: Designing Sex w/ Propellor Design
[Image: Nighttime on Granville Street. Photo by Danielle Bauer via Flickr]