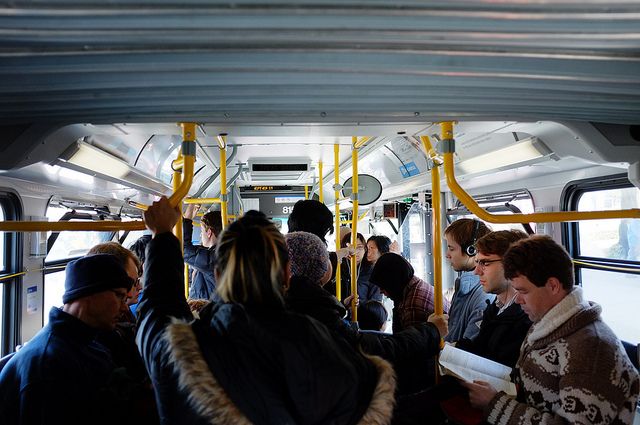 This week we're exploring the spaces where Vancouverites are making connections, collaborating, and becoming better acquainted. Ideas like the VPL's new public garden or an award for Vancouver's 'greenest' family are complicating the perception of Vancouver as an unfriendly city. Sure, there are still places that make us uncomfortable and standoffish (namely, public transit) but as you'll see, there are people in the city working on how to make these friendlier too.
Garden in the Sky. 
Chances you aren't one of the very few people who have visited the VPL's rooftop garden. But that's about to change because the original design dream team that includes architect Moshe Safdie and landscape architect Cornelia Oberlander has reassembled to 
work on a new public green space
at the central library. In 2015, the newly renovated top floors and roof will be opened to the public, complete with a grand reading room, outdoor terraces, and new rooftop garden. Sounds like a perfect place to meet new friends to us.
A Family that Recycles Together...
A very "Vancouver" competition put on by SPUD Vancouver and Vancouver Mom came to a close on Monday: the city has voted for its greenest family. The five finalists wowed voters with their collaborative environmental achievements ranging from energy efficient renovations in their homes to air drying clothes instead of using a dryer. Read all about them 
here
and congratulations to the
McEacherns
for taking home the big prize!
Getting Friendly on the Bus. 
Buses might not be known as the friendliest places in the city but one bus driver has taken it upon himself to change that. While most people try to remain as anonymous as possible on public transit, Brian Revel sees buses as temporary "micro-communities" where people can have positive interactions. So how does he get people talking? By simply encouraging passengers to say "hi" to each other. Pretty inspirational. Check out his Facebook page 
here
.
Special Shout Outs. The MOV's community partner (and friend) 
Vancouver Mini Maker Faire

, i.e.
 the city's biggest show and tell, is holding their third annual 
faire 
at the PNE Forum on June 1 and 2.
 Come out and get to know over 
100 Vancouver makers demonstrating skills such as puppetry, electronics, computer hacking, music-making, quilting, farming and virtual reality. 
Advance tickets here
.
And finally a special shout out to our own curatorial team for the new

Visible City virtual exhibit

and free mobile app (download it through

iTunes

or

Google Play

) that allow you to explore Vancouver's neon neighbourhoods. Check it out!
At the MOVeum: