upcycled urbanism
Posted by:

Anna Wilkinson

on

July 17, 2013 / 1:50 PM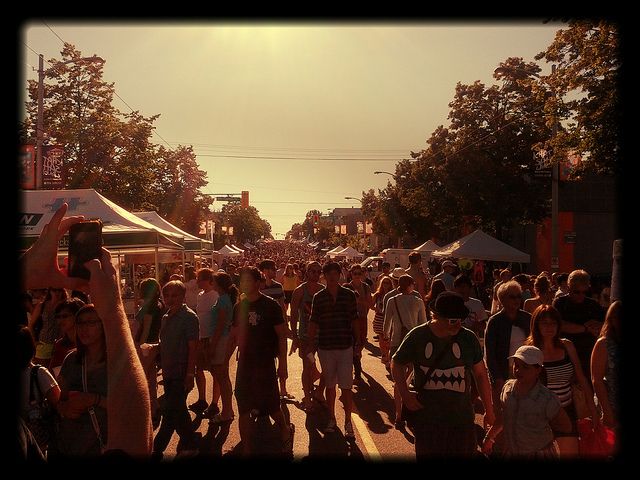 This week,
an interactive map of Vancouver occupations
got us thinking about patterns and socio-economic trends in the city. As the map reveals, doctors are seemingly more likely to live in Shaughnessy and musicians on Bowen Island. But elsewhere in the city people are defying expectations and reworking conventional wisdom. Unexpected donations to the arts, innovative art and architectural interventions, and shifting ideas surrounding homeownership are forcing us to reconsider what we thought we knew about the city.
Funding Win.
While the arts and culture sector is generally facing funding cuts, one unique Vancouver program recently got a big break from an anonymous donor.
Vancouver Coastal Health's The Art Studio Program received more than $208,000
allowing it to stay open another year and provide people with mental health and addiction problems therapeutic access to art classes. A longterm financial solution will still need to be put in place for the program to continue.
Taking Art & Architecture to the Street.
This Saturday, July 13 saw Granville Street come alive with MOV's long-awaited public design and build event,
Upcycled Urbanism
. Hundreds of Vancouverites and passersby took part in the re-imagining of one of Vancouver's busiest streets to build beautiful, hallucinatory, and playful structures out of re-purposed polystyrene. Stay tuned for the official wrap-up, but in the meantime, here are photos to relive the day, posted on
Xinhua
,
Flickr
, and
Facebook
.
And a hat tip to our neighbors for their massively successful Khatsahlano! Festival, for
bringing Kitsilano streets to life
with vibrant musical acts and innovative art works, including a POD container gallery where MOV shared its new mobile app and virtual exhibit,
The Visible City
with the Festival's estimated 100,000 attendees.
Getting Real with Vancouver Real Estate.
For many of us the dream of buying real estate in the city is just that, a dream. As
this
Globe and Mail
article explains, as of last year over half of all single-family detached homes in Vancouver were valued at one million dollars or higher. This has caused a major shift in how young people are viewing homeownership and the Canadian dream: "Young, well-educated wage earners, who for decades have regarded a detached home as a natural aspiration, are now revising their expectations, ratcheting down their hopes." Great take on the cultural ramifications of Vancouver's real estate market.
At the MOVeum:
August 15 - Redacted Readings
October 2 - Legacy Dinner
Posted by:

Anna Wilkinson

on

July 05, 2013 / 2:51 PM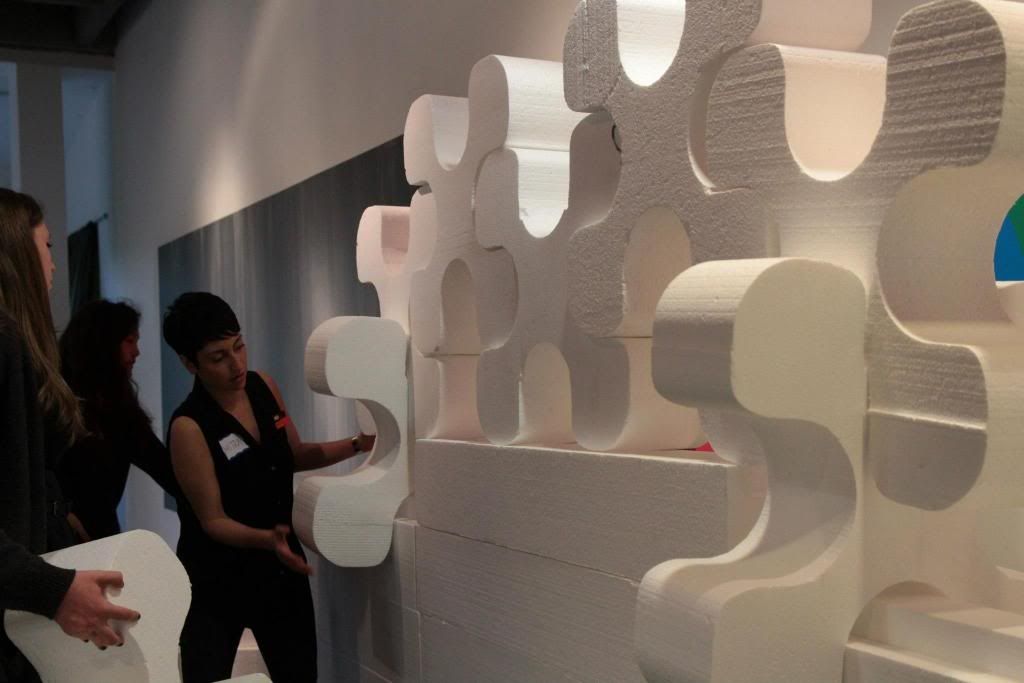 For months, teams of designers, students and regular folks have been hard at work re-imagining, re-configuring and re-designing Granville Street. Finally, on Saturday, July 13, their design dreams will be revealed as MOV and our partners invite the public downtown to participate in the transformation of the 700 Block of Granville.
Their designs will become a reality through the use of hundreds of super-sized polystyrene building blocks salvaged from construction sites around Metro Vancouver.
The material is part of pioneering work by Langley-based Mansonville Plastics, which rescued polystyrene and ground it down for use in new blocks. After our event, materials will be returned for a third round of recycling and re-envisioning.
The entire Upcycled Urbanism project came together around just such ideas of 'upcycling.' Way back in January, the project was born from a common aspiration of UBC's School of Architecture and Landscape Architecture (SALA), the Vancouver Public Space Network, Maker Faire Vancouver, Spacing Magazine and MOV to offer people new ways to re-envision public design. As we've been reporting since then, teams of students, artists, designers, and makers have been talking about and planning public interventions that juxtapose unexpected forms and ideas against otherwise mundane spaces.
So what can you expect to see on July 13th? We don't want to give too much away, but you might see a giant living room, a super-sized game zone, or, as one team member put it, an "all-out public hallucination." As Zanny Venner of VPSN explains, the idea of disrupting expectations is intrinsic to the project: "I think people will be surprised at how much of an impact the material of polystyrene can make. You wouldn't necessarily think so, but it has inspired people to transform a street space into a unique and unexpected social landscape."
Excited? There's still time to join a build team by emailing us at upcycledurbanism@museumofvancouver.ca. And on July 13th everyone is invited to watch, encourage builders and engage with this interactive landscape between 10:00am and 8:00pm.
See you there!
[All images from our Volunteer Orientation Night on June 26, 2013]
Posted by:

Mitra Mansour

on

March 19, 2013 / 12:00 AM
Hallucinating in Public: Creating Environments That Are Beautiful and Disruptive, the second workshop in the Upcycled Urbanism March series,  got off to a mysterious start. Bill Pechet of  SALA and Ian Lowrie of  Spacing Vancouver gave a packed room of urban design enthusiasts an introduction to design process: a matter of creating poetry with an "immaculate corpse." They combined images of playful, practical and interactive urban realm installations with fun fur because, of course, it's  fun!
Students of Bill's studios at SALA are no strangers to this nouveau-surreal approach to public place making. Those just being exposed to the approach were intrigued by and drawn into the design-making process. By playing with "hallucinatory" systems as a catalyst for more creative civic engagement and participatory place making, participants used design thinking to create potentially richer public realm projects.
They brought together the various poetic elements in conceptual drawings and scale models (constructed from modular blocks created by SALA students). Some projects explored possible public spaces which incorporated interactive permeable walls. Others provided communal sheltered spaces with moving bookshelves for an outdoor library. Others played with lighting, while others used sculptures as multi-faceted sensory vignettes to help people better connect with one another.
Images by: MOV Volunteer Linnea Zulch
Bill Pechet of SALA and Ian Lowrie of Spacing Vancouver
Participants start to layer their hallucinations onto the site.
Collaborative modular forms start to take shape rooted in previous Immaculate Corpse layering process
A week later, Block Talk: Creating Spaces That Connect People ( the third Upcycled Urbanism  workshop) brought together local design enthusiasts with town planning students from the University of Dortmund in Germany.
The sold-out workshop was  co-lead by Mari Fujita, a professor at UBC School of Architecture and Landscape Architecture, Jonathan Bleakley and Zanny Venner from Vancouver Public Space Network.
The central challenge? Use a  public feast as a driver for communication and connection between friends and strangers. The concept was inspired in part by the leader's own innovative projects. In 2005,  Fujita's Space Agency project (2005) invited designers to reclaim Vancouver's little-used alleyways. The winner saw giant balloons lodged in a rarely-used Gastown alley. In the summer of 2012, Vancouver Public Space Network's Lunch Meet initiative used a half-block  long dining table to draw strangers to share their lunches together.
Workshop participants were guided to think about innovative models of public furniture and collaborative community activities using blocks designed by students in SALA's Material Culture Studio.
The workshop produced some tremendous ideas. There were prototypes of multi-generational spaces promoting play and performance. There were clustered spaces for napping and "romantic meetings." Teams used the modular blocks to prototype  flexible and multi-use street furniture at seated and standing scales,  as well as interactive forms which could shift to create solid or permeable structures to allow for human connection through sight and sound. The German students, amused that Vancouverites are not permitted to drink alcohol in public, proposed interesting 'bar' tables, sparking  conversation around policiy and cultural differences that shape public drinking.
Mar. 17 images by Kellan Higgens.
Zanny Venner of VPSN, Mari Fujita of SALA, Jonathan Bleakley of VPSN
Ready, set, charrette!
New innovative modular forms emerge to create public feast spaces
 
All Mar. 17: Kellan Higgins - http://www.kellanhiggins.com
Don't Miss Your Chance to Participate in the LAST Upcycled Urbanism Workshop:
Surprise and Juxtaposition in the Public Realm
with SALA, Spacing, and Maker Faire
Design forms and images seem to reappear through life--whether in architecture, nature, or even in the food we eat. How can forms from seemingly disparate realms provide inspiration for imaginative public space interventions that draw people together, hold them, and perhaps even change them?
No need to have a design background, just bring your creative and curious mind!
Upcycled Urbanism is a partnership between MOV, the School of Architecture and Landscape Architecture (SALA) at the University of British Columbia, the Vancouver Public Space Network, Maker Faire Vancouver, and Spacing Magazine. With generous support from Mansonville Plastics and Vancouver Foundation.
Location: Museum of Vancouver
Date: Sunday, March 24
Cost: By general admission | MOV members and project partners free
Register: http://march24upcycledurbanism.eventbrite.com/
Twitter: #upcycledurbanism
             @museumofvan