social media
Posted by:

Anna Wilkinson

on

March 19, 2013 / 6:55 AM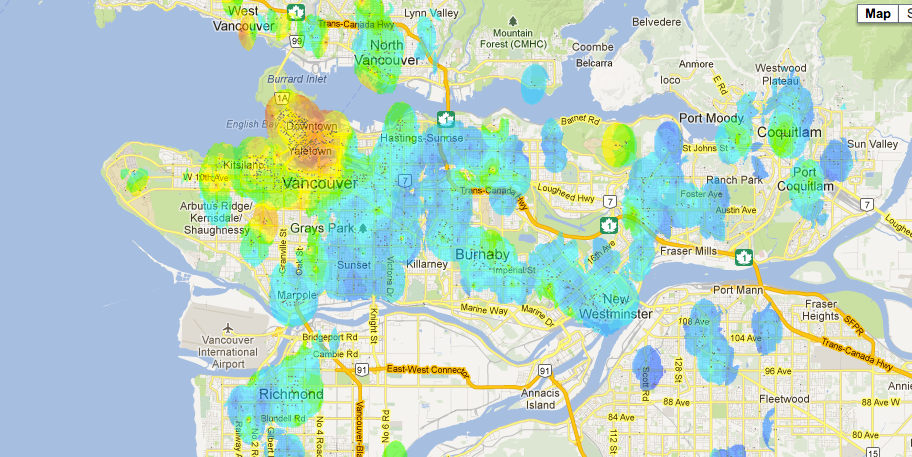 There's no doubt about it, Vancouver is a tremendously, 
ridiculously
 talented city. From clever computer engineers, to ground-breaking artists, to innovative entrepreneurs the city is chalk full of people who continue to shape and define our communities in unexpected ways. This week's MOVments takes a look at some of the benefits 
and 
repercussions of being such an accomplished city.
Visualizing (Un)Affordable Housing. 
Finally, with spring on its way and the temperature on the rise, here is an extremely effective 
"thermal" visualization of the city
that literally puts Vancouver's most/least affordable neighbourhoods on the map.
At the MOVeum:
Posted by:

Anna Wilkinson

on

July 31, 2012 / 2:43 PM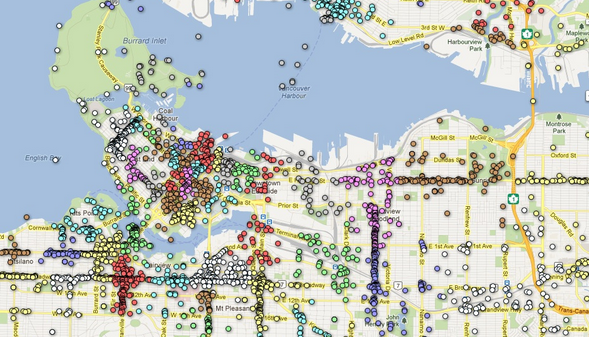 With big events like Vancouver Pride and the London summer Olympics in full swing this week,  the city is in a perfect position to reflect on where we're at, how far we've come, and where we're going. This week, MOVments looks at Vancouver's Olympic legacy, where the city is at with its fight against homophobia, and the ways that we're quantifying and collecting data on our neighbourhoods.
Olympic Dreams. Former director of city planning in Vancouver, Brent Toderian compares the common problems faced by Olympic host cities as London's games get under way. He says that London's pre-Olympics complaints may seem very familiar to Vancouverites, who also strove to strike a "balance between booster-ism and cynicism" in 2010. From Toderian's perspective, Vancouver's Olympic legacy was its adaptability in the face of obstacles and the unparalleled celebratory spirit it brought to Canada. For more on Vancouver athletes in this year's games, check out this Vancouver Courier article. 
Hope and Pride. With Pride Week starting this Monday, many are asking how far Vancouver has really come in tackling homophobia and transphobia. Vancouver Park Board commissioner Trevor Loke said yesterday that while we've made progress, we still have a long way to go. Cuts in funding to HIV/AIDS programs and ongoing discrimination against trans-gendered individuals in particular, continue to be challenges for LGBTQ advocates. On a positive note, Former councillor Ellen Woodsworth pointed to the position of openly gay swimmer Mark Tewksbury as leader of the Canadian team at the London Olympics as a sign of real progress. And with Pride underway, the Vancouver Queer Film Festival is just around the corner. Check out the Georgia Straight's picks for the festival.
Shaping our Neighbourhoods. The Carnegie Mellon University is using social media check-in programs like Twitter and Foursquare to compile information about neighbourhoods in various cities, including Vancouver, for their new Livehoods project. When smartphone users check-in to nearby locations, the program produces coloured constellations on a map, revealing neighbourhoods shaped by collective preferences and distribution patterns. Interestingly, the movements on Livehoods reflect, but rarely match, the city's official neighbourhood boundaries. 
Feeding the Masses. And finally in unrelated (but delicious) news: Vancouver had its third annual Amazing Grilled Cheese Giveaway on Saturday. Check out the Vancouver is Awesome post for some photos of the happy sandwich eaters on Union Street.
At the MOVeum:
August 16 - Volunteer Information Session
[Image: Social media map of Vancouver. Courtesy of 

Livehoods.org

]
Posted by:

Erin Brown John

on

July 16, 2010 / 1:54 PM
A round up of things we have been following this week.
Beatty Street wall repaint. Painting is finally underway on the new Beatty Street wall mural. The project is jointly funded by the City of Vancouver and Concord Pacific and depicts figures from Vancouver's past and present. More information can be found on the project's Facebook page and Youtube.
Shortly before the Olympics the Beatty Street Wall was painted over by city workers conducting what was apparently routine maintenance. The move sparked the ire of a large number of people in the community. For those of you who may be feeling nostalgic, the original artwork is still visible on Google Street View, here.
Pop-up shop. Douglas Coupland partnered with Roots to open up a temporary store in Gastown stocked with several limited edition signature items. The event has garnered a lot of buzz and is part of a trend in retail and marketing that turns shopping into an event with stores appearing in novel locations for limited periods of time. Pop-up retail and marketing has already been used successfully by several companies. In a sense, the Cheaper Show uses the same model in order to create new markets for local art. I'd love to see this concept used for non-commercial purposes too, like education or community building.
The changing face of Gastown. The Westender focuses on the closure of Biz Books to highlight the pressures on independent businesses as Gastown gentrifies. In spite of the neighbourhood's facelift, rents are rising and there is a growing number of empty storefronts as people wait for the renewal and residential density ushered in by Woodwards to arrive.
City calls for container housing. City council is considering a motion to explore the use of shipping containers in providing low-cost social housing. The Tyee ran a very positive story about this kind of housing earlier this year, but the comments below reveal that it is a very controversial idea.
Old Spice answers your questions. And a shout-out to Old Spice for launching an excellent social media campaign this week. In short: you send a message to the Old Spice Man via social media and he responds in a video on Youtube. This is in no way a product endorsement, I just think it's a clever and entertaining campaign and Mashable is reporting some incredible stats about its' reach and effectiveness.
Image credit: Kris Krüg, via flickr