libraries
Posted by:

Anna Wilkinson

on

August 01, 2013 / 8:32 AM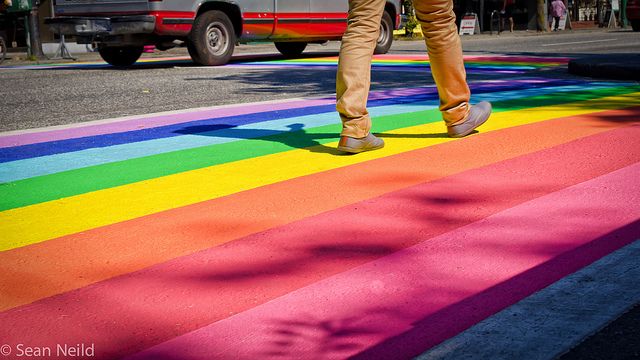 Sometimes there's a fine line between being on the cutting edge and just plain being on edge. This week we bring you two lovely stories of Vancouver's willingness to push boundaries and embrace new, fresh ideas. And for good measure: one story of a divisive new bike plan that has excited some and induced anxiety in others.
Beach Biking. We start with the story that's put some Vancouverites on edge: the freshly approved Kitsilano bike route that will see a one-kilometre stretch of Point Grey Road closed to commuter traffic. Many cyclists are loving the idea of biking directly between the Burrard Bridge and Jericho Beach, while some local residents fear the impact of 10,000 motorists being diverted onto their streets. Meanwhile The Tyee asks: Why was this such a controversial topic in the first place? And Gordon Price tells us to relax.
One Little Free Art Exchange. As the Globe and Mail reports, "It is believed Metro Vancouver has between five and 10 "little free libraries." And now, one little free art exchange." Cheryl Cheeks' brain-child, the aptly named Dude Chilling Art Exchange, located in Mount Pleasant's Guelph Park (also known as Dude Chilling Park) was unveiled this weekend. We're pretty excited to check out the first public spot in Vancouver where you can swap anything from sculpture and paintings to poetry and photos.

At the MOVeum:
Posted by:

Anna Wilkinson

on

June 19, 2012 / 12:35 PM
It's almost officially summer and true to form, the weather in Vancouver is an unpredictable mix of downpours and sunshine. As those clouds hurtle across the sky, things are moving just as quickly on the ground below. This week MOVments looks at the shifting cultural landscapes and the influential movers and shakers that are setting Vancouver in motion.
The Loneliness of the Vancouver Runner. As the weather improves (slightly), more of us are getting out for a morning run. But, unlike in Miami or Toronto, we're not greeting each other as we pass on our running routes. A new Vancouver Foundation survey suggests that this could be a symptom of the broader social isolation many Vancouverites feel. A quick fix? Flash a big smile at your fellow runners, folks!
Marpole Midden. It appears that the dispute over development on a 3,000 year-old village site may be closer to a resolution. The provincial government has offered the Musqueam First Nation cash in exchange for land previously owed to them, so that the group can purchase the historic midden. A condo development was halted when burial grounds were discovered at the Marpole site in January.
Happy 45th Anniversary Vancouver Magazine! To celebrate 45 years of engaging and entertaining readers with insightful content, Vancouver Magazine has put out a fantastic list of 45 people who have helped shape the city.
Northern Exposure. Are British Columbian cultural sensibilities and aesthetics invading the American psyche? Knute Berger suggests BC urban design, sports, and film sets have a greater influence on our neighbours to the south than we realize.
Book Ending. And finally, the St. George Bike Lane Library is putting books, ideas, and people into circulation in an exciting way. Everybody should go check it out!
At the MOVeum:
June 19, 6 pm – Home: Inspiration from Three Vancouver Communities
[Image: Runner in Stanley Park. Photo by Arlene Gee]
Posted by:

Erin Brown John

on

August 22, 2011 / 3:06 PM
Rethinking libraries. Surrey is leading the charge in the trend toward building libraries as places for gathering and education, rather than as stacks of books. In addition to this, the Surrey Public Library is launching a 'living books' service, where patrons will be able to take experts on a variety of subjects out for coffee and pick their brains.
Rising oceans. Cities generally prohibit the construction of buildings in areas that are vulnerable to flooding and storm surges, but a new map of Vancouver shows that by 2100 many more areas will be at risk. The entire map can be found here.
Slowing down. A local non-profit shares a perspective from the Downtown Eastside about traffic calming along Hastings Street.
Making Vancouver better. Just ahead of the Design Thinking UnConference, urbanist and architecture critic Trevor Boddy shared some thoughts about making Vancouver a better place. Some issues he cites as areas for concern: the relative lack of office space and business activity in the downtown core, the segregation of social problems into areas such as the Downtown Eastside and the lack of debate over public space in the media.
Coach houses. The Vancouver Heritage Foundation is looking for examples of old laneway houses to show that the idea is not entirely new to Vancouver.
Urban bees. Vancouver Magazine visits the roof of the Fairmont Waterfront where the director of housekeeping maintains six hives of honey bees.
Rubber sidewalk. The city engineering department has installed Vancouver's first rubber sidewalk. It's made from recycled materials and easier to walk on.
Car-free Robson. The Vancouver Public Space Network has launched a petition calling for Robson Square to be maintained as a pedestrian-only space.
Public art. Two public art projects at transit shelters aim to encourage people interact more with public space. Adorno and Nose encourages transit riders to whistle or sing while they're waiting for the bus and A Sign for the City dedicates each firing of the Nine O'clock Gun to a cultural event or historical figure.
Image: squeakymarmot via flickr.