artists
Posted by:

Anna Wilkinson

on

March 19, 2013 / 6:55 AM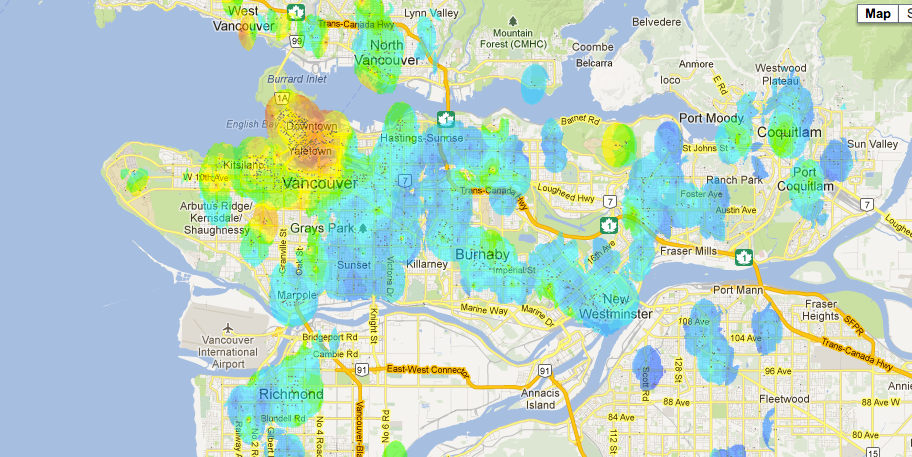 There's no doubt about it, Vancouver is a tremendously, 
ridiculously
 talented city. From clever computer engineers, to ground-breaking artists, to innovative entrepreneurs the city is chalk full of people who continue to shape and define our communities in unexpected ways. This week's MOVments takes a look at some of the benefits 
and 
repercussions of being such an accomplished city.
Visualizing (Un)Affordable Housing. 
Finally, with spring on its way and the temperature on the rise, here is an extremely effective 
"thermal" visualization of the city
that literally puts Vancouver's most/least affordable neighbourhoods on the map.
At the MOVeum:
Posted by:

Erin Brown John

on

October 11, 2011 / 3:10 PM
#OccupyVancouver. While protests on Wall Street continue, actions are spreading around North America and a demonstration is planned for Vancouver on October 15. While there's little indication that it has the potential of becoming violent, it seems to have the Vancouver Business Improvement Association worried.
The movement has Vancouver roots, though some at the General Assembly at W2 on the 8th felt that given the colonial history of Canada, "occupy" is an inapproriate term for the event.
Digitization. The Vancouver Archives describes some of the work and new challenges they're facing in storing digital content.
Arts spaces. As Red Gate finally closes, the City of Vancouver debates a report about how to promote the creation and upkeep of artist studios around the city.
Building Vancouver has been posting some really fascinating material lately about the people who were involved with building many of Vancouver's historical buildings. It's worth a look.
Image: caelie_
Posted by:

Erin Brown John

on

June 27, 2011 / 3:06 PM
Post-riot therapy. Scout lists 101 awesome things about Vancouver. Glad to see we (and this blog) made the list!
Riot. An independent review of the police response to the riot is underway. The Vancouver Police Department has released a fact sheet.
The backlash continues. Employers of outed rioters are facing boycotts and negative press and in some cases are letting those employees go. Blenz has launched the first major lawsuit against as yet unnamed rioters.
The backlash highlights lines of cultural divide and prejudice between the city and suburbs. A lot of the blame for the riot has been leveled at the suburbs, but many suburbanites are disputing th
There is growing concern that some riot photos submitted to police have been photoshopped, and it's likely that this will be a popular defence in court.
Rebranding. In light of recent marketing campaigns by Vancouver and Calgary, how does a city go about changing it's image?
Gentrification. The Dependent looks at some of the people walking the fine line between gentrification and revitalization in Gastown and the Downtown East Side.
Language. There is now a dictionary for the Squamish language.
Local food. Turning a new page in the local food movement, the City of Vancouver funds a project to encourage people to replace their lawns with wheat.
Summer of our discontent. Past Tense remembers Vancouver's Yippie civil unrest.
Authentic sky. Appreciation for a local artist who paints Vancouver's sky like it is: usually cloudy.
An oddity from the history books: Police conclude that sounds of a man drowning that had been frightening visitors at Third Beach were actually coming from a bird.
Image via Past Tense.