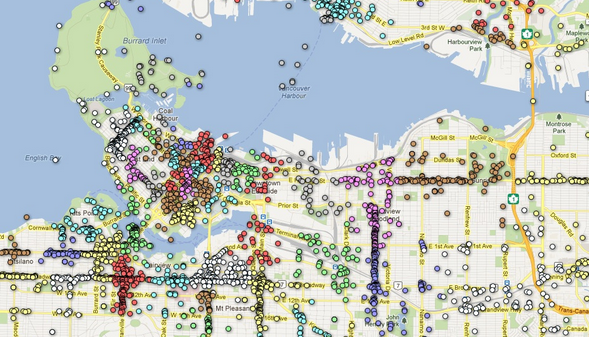 With big events like Vancouver Pride and the London summer Olympics in full swing this week,  the city is in a perfect position to reflect on where we're at, how far we've come, and where we're going. This week, MOVments looks at Vancouver's Olympic legacy, where the city is at with its fight against homophobia, and the ways that we're quantifying and collecting data on our neighbourhoods.
Olympic Dreams. Former director of city planning in Vancouver, Brent Toderian compares the common problems faced by Olympic host cities as London's games get under way. He says that London's pre-Olympics complaints may seem very familiar to Vancouverites, who also strove to strike a "balance between booster-ism and cynicism" in 2010. From Toderian's perspective, Vancouver's Olympic legacy was its adaptability in the face of obstacles and the unparalleled celebratory spirit it brought to Canada. For more on Vancouver athletes in this year's games, check out this Vancouver Courier article. 
Hope and Pride. With Pride Week starting this Monday, many are asking how far Vancouver has really come in tackling homophobia and transphobia. Vancouver Park Board commissioner Trevor Loke said yesterday that while we've made progress, we still have a long way to go. Cuts in funding to HIV/AIDS programs and ongoing discrimination against trans-gendered individuals in particular, continue to be challenges for LGBTQ advocates. On a positive note, Former councillor Ellen Woodsworth pointed to the position of openly gay swimmer Mark Tewksbury as leader of the Canadian team at the London Olympics as a sign of real progress. And with Pride underway, the Vancouver Queer Film Festival is just around the corner. Check out the Georgia Straight's picks for the festival.
Shaping our Neighbourhoods. The Carnegie Mellon University is using social media check-in programs like Twitter and Foursquare to compile information about neighbourhoods in various cities, including Vancouver, for their new Livehoods project. When smartphone users check-in to nearby locations, the program produces coloured constellations on a map, revealing neighbourhoods shaped by collective preferences and distribution patterns. Interestingly, the movements on Livehoods reflect, but rarely match, the city's official neighbourhood boundaries. 
Feeding the Masses. And finally in unrelated (but delicious) news: Vancouver had its third annual Amazing Grilled Cheese Giveaway on Saturday. Check out the Vancouver is Awesome post for some photos of the happy sandwich eaters on Union Street.
At the MOVeum:
August 16 - Volunteer Information Session
[Image: Social media map of Vancouver. Courtesy of 

Livehoods.org

]